8 Ways to Bring Outside Traffic to Your Medium Stories
How to make the most of the Partner Program changes.
By Shannon Ashley
Today is the last day to get paid per claps on your Medium stories. Tomorrow, a new system will kick into gear, one in which you're paid for the time a reader spends on your stories.
None of us really know how it's going to pan out in terms of earnings, but there's a lot to look forward to with the changes. Perhaps the most exciting thing about all of this is that writers can now be paid when non-members read our stories IF they become a paying member within 30 days.
What that means for us and Medium is that bringing outsiders onto the platform is more important than ever. We want new folks to read our work on Medium and join as paying members.
So, it would behoove all Medium writers to start thinking about the ways they can bring in more readers from around the web.
And keep in mind that anytime you share your Medium stories, you should be using the "friend link" which allows anyone to read your story without hitting the paywall.
To find your friend link, click the gear icon on your story:

Select "Share Friend Link," and then click "Copy":
You should always share your friend link to ensure that folks can actually read your work. There is no downside to sharing the friend link because you want people to enjoy your work, browse the rest of Medium, and become paying members when they bump into that paywall on somebody else's work.
1. Use your email list.
I'll be the first to admit that I don't like marketing at all. Yuck. All I want to do is write, and I really hate putting myself out there to sell my work.
But even if you write a book that gets traditionally published by a big imprint, you will likely still have to market your own work. That's just how it is in the writing world. Writers are, for the most part, on their own.
So, use an email list to keep in contact with your readers. No, not everybody wants to be on your email list. But plenty of people do, if you let them know it's there.
I began my email list somewhat late into my Medium journey, and I haven't marketed it especially hard, but I will likely reach about two thousand subscribers within my first year. I use Convertkit and my landing page is super basic. Actually, I need to update it because I haven't been sending out links on Sundays:
Depending upon where you post the signup to your list, there will be Medium members and non-members among your subscribers. Reaching out via email is a good way to remind readers where they can find you.
2. Be an active player on social media.
Before I went full-time on Medium, I used to work for a social media marketing company. In a nutshell, we managed social media profiles for local businesses.
This is something you can absolutely do for yourself, but many writers don't do it because it's time consuming. The smartest way to manage your social media is to schedule posts about 2 weeks in advance, and then keep up with it on a weekly basis.
There are a variety of DIY scheduling services available like Hootsuite and Sprout Social. And you can build a presence on any social media platform you like. Facebook, Twitter, Instagram, and LinkedIn are just the beginning.
One thing to keep in mind about social media marketing is that it's more about building your web presence and rapport with readers. It can take time to build true engagement which results in clicks and reads, but many businesses give up before they feel they get anywhere, which is a real shame.
3. Utilize Quora.
Better Marketing is great about using Quora to help further the reach of each story.
In fact, they send out an email with each story you publish to explain how to share their links to your work:
"We've shared your article to Quora. Please click the like button, then the reshare button and then make sure you follow the Better Marketing space on Quora."
If you want to learn more about using Quora to promote your work, here's an article that sums up options nicely.
4. Run Targeted Ads.
Practically every platform online has a way for you to "boost" a post. Typically, this means you select a target demographic and pay for the distribution of a post on platforms like Facebook and Instagram.
Paying for ads can be something you do on the cheap for maybe $5-$25 a month, or you might choose to be a big spender and invest more.
Ads are an easy way to help bring in more traffic to your work on Medium among people who might not yet know that Medium exists.
5. Write some guest blogs.
Yes, people still have blogs outside of Medium. Remember those? Many successful bloggers are looking for interesting guest bloggers, or folks to interview about their own areas of expertise.
You don't have to wait for people to invite you. Start reaching out to bloggers you admire with a similar audience as you and ask if they are interested in working together.
Always ask to include a link back to your work on Medium to help new readers find you.
6. Join podcasts.
Here's another opportunity that's a lot like guest blogging except, you know, it's an audio thing.
I like podcasts, because you're not just finding potential new readers, but you're also letting them see another side of you.
Make sure you arrange it with the hosts of the podcast that you can talk about your work and tell listeners how to find you on Medium.
Many podcasts today will link to your profile, or a specific story from their website too.
7. Say yes to syndication.
Honestly, I almost always say YES to websites that ask to syndicate my Medium stories. No, many of these sites do not pay.
But it's no skin off my back to let another site repost my work to their readers. I always insist that they link not just to my profile on Medium, but also to the original story.
It's a little bit strange to me how many people say no to unpaid syndication in an industry where people often criticize making money from writing at all (since many folks insist we're not supposed to be in it for the money).
However, I do want to get my name out there. So, I typically say, sure. Why not?
Saying yes has also led to a few well-paid writing gigs. Win-win.
8. Put a little SEO in it.
Looks like those Google views might actually pay under this new system, if readers who find your work on Google become paying Medium members.
There are a few ways people find your Medium stories on Google. First, they search and your stories (hopefully!) come up in their search results. But Google also recommends stories to readers through the app before they start a search.
In fact, Google occasionally recommends my own writing to me. Hmm.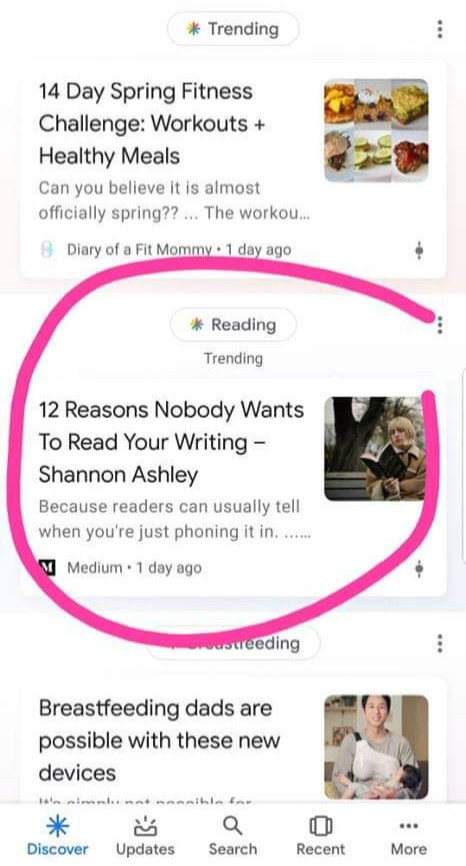 Luckily, they also recommend my stories to other people too, because friends and acquaintances occasionally tell me when they see my stories in the Google app.
But as long as we're talking about Google, we should discuss SEO. Search engine optimization.
On a basic level, you want to use aporopriate keywords in your writing, especially the headline. You can get help with this task by using Neil Patel's UberSuggest. If your headline lines up with the keywords people search for, that can help your work pop up higher in search engines.
Another helpful habit to get into is to give backlinks to relevant and reputable websites. Yes, it's good to use backlinks to your own work but in terms of better SEO, you want others to link back to your work as well. This is called earning backlinks.
Backlinking to respectable sources can also help your work rank higher with Google, and it helps give your readers more resources.
Backlinking is easy, and it looks like this.
Things are changing fast folks, but I'm confident we can embrace those changes and come out better off for it. Consider this your kick in the pants to finally start marketing your writing to readers off Medium.
The more readers we bring into the membership, the better off we all can be.
---
Join my email list to keep in touch and I'll send you my 12 tips to crush it as a blogger.